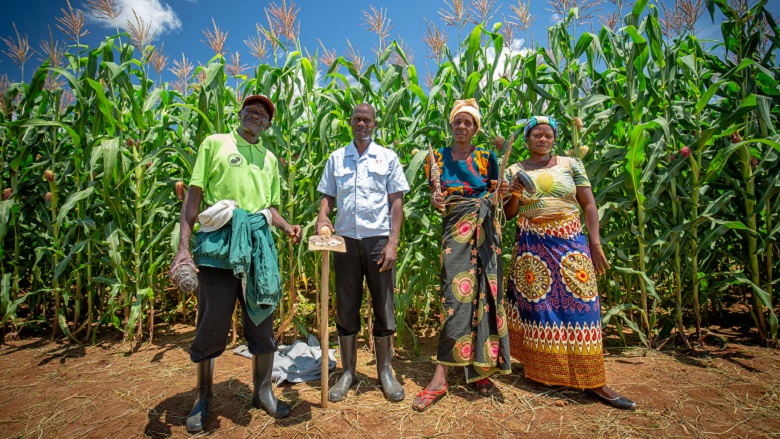 Crops in Zambia are changing as a result of climate change adaptation.
A UNDP-supported project in Zambia is helping farmers adapt to increased flooding and drought through training, enhanced climate-resilient planting practices, and new commercial prospects, thanks to public and private money.
Zambia is a landlocked country in southeast Africa that, like many of its neighbors, is heavily reliant on its own subsistence agriculture, which employs 85 percent of the population. Most rural people rely on rain-fed crops like maize, sweet potato, and cassava for their entire nutrition, leaving them particularly vulnerable to the negative effects of the climate crisis, particularly the increased severity and frequency of water extremes such as droughts and floods.
In a recent article in The Conversation, Chris Funk, director of the Climate Risk Center at the University of California, explained that "human-induced warming in the western Pacific Ocean is causing more rain around Indonesia and a worrying but predictable rainfall deficit in East Africa, with countries in the area facing increasingly severe drought situations and suffering food insecurity."
According to the World Food Program, the lack of rainfall, combined with increased flooding in many parts of the country, has resulted in a drastic drop in crop yields, with nearly half of the population unable to meet the WHO's minimum calorie requirements and 35 percent of children suffering from stunting (FAO). In reality, Zambia topped the NGO CARE's list of humanitarian crises receiving little media coverage in 2021, with roughly 60% of the country's 18.4 million people living below the international poverty threshold of $1.90 (€1.67) per day.
In this regard, the fact that catastrophic weather events have shifted hundreds of years of traditional farming techniques necessitates a major reconsideration of the region's food system. Not simply in terms of changing how people grow their staple foods, but also in terms of changing how the entire system operates.
An innovative conservation agriculture project supported by the United Nations Development Programme (UNDP) and financed by the Green Climate Fund, a mechanism designed to assist developing countries in climate change adaptation practices with both public and private contributions, is attempting to make this ecological transition effective and, above all, as soon as possible. This project, known as SCRALA in the local community, attempts to save local agriculture through farmer field schools, climate-resilient farming techniques, and other revenue-generating activities.
From tragedy to hope
The hope that this project represents is embodied in the image of Patricia Munwela, a single mother of five children who struggles to make ends meet on a small family farm in southern Zambia, according to a recent UNDP article. The increase in catastrophic weather occurrences, whether in the form of extended droughts or floods, has drastically changed the livelihood of this 45-year-old farmer in the last decade. Munwela struck rock bottom after a catastrophic flood in late 2020 ruined her entire corn crop.
"Our crops were destroyed. Everything was ruined "assures this farmer, who has never experienced a calamity of this magnitude in her life. "Drought is a constant in this part of the country. What was supposed to be a blessing became a misery "She bemoans.
Munwela and many other farmers in the area, however, have been able to not only save their farms and livelihoods, but also to help maintain local ecosystems and have greater future prospects owing to the SCRALA project. This effort supports direct planting agriculture on stubble, an environmentally benign agricultural approach that avoids soil disturbance by plowing. Furthermore, greater crop rotation has been implemented, as well as the adoption of more drought-tolerant plant varieties, resulting in increased crop yields and improved food security.
Conservation agriculture also improves soil structure while preventing erosion and nutrient loss. This results in higher harvests, especially during droughts, as well as greater environmental conservation.
The SCRALA initiative, on the other hand, aims to encourage farmers to diversify their operations in order to gain new commercial opportunities while also providing training in new advanced planting techniques. Instead of relying primarily on their corn crops, many farmers in the area are now raising goats and growing vegetables. Families who obtain goats agree to distribute their progeny to other members of the society in this way. This broadens the project's scope and strengthens community togetherness in order to foster long-term resilience.
Smart Agriculture
Christine Mudenda, another local farmer, is included in the UNDP article as someone who has benefited from the project's training, tools, and approaches. Mudenda now understands the benefits of using an inter cropping approach to increase yields and ensure she has a backup crop in case the maize harvest fails. "I was able to generate a good crop last season, three tons of maize, for the first time in many years, using the knowledge I learned from the training," he explains.
But, more crucially, these tiny victories are paving the way for true systemic change in Zambia. Conservation agriculture is gaining popularity in the 16 districts covered by the program as a result of this intervention. In fact, the SCRALA initiative has teamed up with community radio stations to broadcast critical messages in local languages, including information on how farmers may plant water-saving crops.
Furthermore, because the project's premise is based on significant changes in traditional weather patterns, this UNDP program is investing in upgrading climate information and early warning systems. This allows smallholder farmers to better manage climate risks and plan for the future, with positive results: the Zambian Ministry of Agriculture estimates that the country will produce 3.4 million metric tons of maize this year. This is a significant increase above the crop production of just over 2 million tons previous season.
"With the right conditions and targeted support, smallholder farmers can acquire vital knowledge and skills that will enable them to adopt the practical and long-term solutions needed to adapt to climate change, put agriculture on a more sustainable and equitable footing, and overcome extreme poverty in Zambia," says UNDP's resident representative in Zambia, Lionel Laurens.
Article Author Gerluxe Image: worldbank