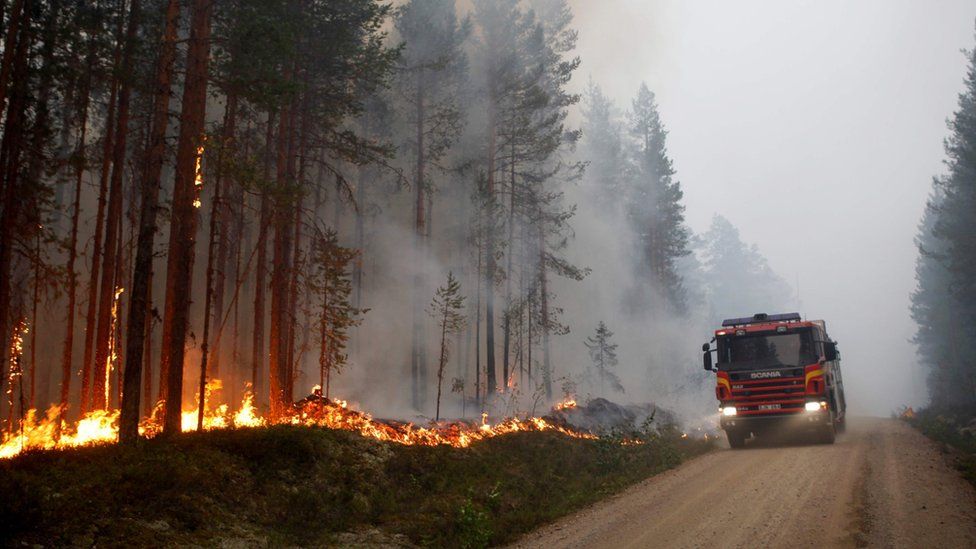 Stopping climate change is feasible with little everyday activities that are within our control, yet global action is also required.
This year, 2021, has made us more aware than ever before that halting climate change is both achievable and within our grasp. We aren't the only ones who believe this. This is a worldwide trend.
Sweden, Denmark, and Norway top the worldwide energy transition rankings. Norway, in particular, is one of the world's most environmentally friendly countries, exporting enormous amounts of electricity to surrounding countries. Scandinavia has developed its own successful energy paradigm centered on renewable energy, electric transportation, and adherence to the Sustainable Development Goals.
More than 80% of households in Iceland are powered by renewable energy. The geological features of the island provide a substantial quantity of geothermal and hydroelectric resources, allowing the island's residents to use these renewable sources to cover their domestic energy needs. This is a good pattern to follow in a country that relied heavily on fossil fuels until the early 1970s. The majority of Iceland's energy needs is now met by hydroelectric power facilities and geothermal energy.
Costa Rica has secured a 15-year supply of renewable energy. The main energy sources used in the generation of the Caribbean country's National Electricity System (SEN) include hydroelectric, geothermal, and wind power. Costa Rica's reliance on fossil resources is minimal, and its self-sufficiency from its own sources, combined with a diverse range of energy sources and cheap production costs, ensures that Costa Ricans will have reliable renewable energy until at least 2035.
Following a significant commitment to the construction of solar panels, Australia has attained over 1 kW of solar energy per inhabitant. In just one year, Australia has put photovoltaic panels on more than 370,000 homes and businesses, and solar panels are now installed on the roofs of more than 31% of Australian households.
Spain, for its part, is ranked ninth in the world in terms of installed renewable energy, but we have every opportunity to move up the rankings. A perfect environment with over 1,700 hours of sunshine each year, land, grid access, technology… and, most importantly, people's solidarity and activism.
Solar panels are used in the fight against climate change.
We Spaniards are not happy to leave things to others to fix, and there is plenty we can do individually to save the earth. We can, for example, join the Rooftop Revolution and install solar panels on our roof from the comfort of our own home's sofa.
Holaluz intends to combat climate change by committing to long-term sustainable solutions like The Rooftop Revolution, as the world's number one ESG electricity company. To put it another way, converting the greatest number of rooftops in Spain into 100 percent green energy for the greatest number of people.
You may now do that without advancing a single euro, thanks to the European Union's Next Generation subsidies and the many legislative amendments being implemented by the autonomous communities. It's considerably easier than you might think to convert your roof to a green roof.
Changing the present energy paradigm to one that supports renewable energy generation will provide me with more solar energy for Spain. As a result, the more energy we generate owing to the solar panels on our roofs, the less we will rely on other energies and, as a result, the energy we use will be cheaper and cleaner. In this way, and in accordance with the United Nations' Sustainable Development Goals 7 and 13, it will be possible to ensure inexpensive, safe, and sustainable energy while also taking immediate action to prevent climate change and its repercussions.
Holaluz aspires to convert the 10 million roofs in Spain that are yet untapped into clean energy, bringing the country's renewable energy production to 81 percent. How? Through individualized service, complete flexibility, and a constant search for the greatest positive influence on the environment and its customers.
As other countries have demonstrated, combating climate change is possible and has never been as simple as it is now with The Rooftop Revolution, which makes it easier every day to join a new energy model that aims to make consumers part of a genuine shift toward a more sustainable and environmentally friendly society.
Currently, photovoltaic solar energy is the best option for the planet's long-term viability. It is unlimited, accessible, produces no greenhouse gases, and is becoming more profitable. As a result, joining The Rooftop Revolution is a crucial step towards becoming a part of the change. Imagine if we placed Spain at the top of the list of countries combating climate change.
Article Author Gerluxe  Image: BBC